Top Play School in Gurgaon
It is important to get your child enrolled in the top play school in Gurgaon as the early years of childhood are the most crucial years with 90% of the brain development happening in the first five years of life. For education at school to be effective, the environment needs to be conducive to learning, allowing the child the required space and time to interact within the learning and teaching process. Our preschool wing is thus, especially designed to create and maintain a stimulating learning environment where children can actively participate and grow & learn in a natural way.
Any preschool in Gurgaon qualifies for your child if only it fulfils the below prerequiistes.
Safe Atmosphere where Kids Feel Cared For
The hallmark of the best preschool in Gurgaon is child centric environment where strict emphasis is laid on thorough care and complete safety of the little ones. Multiple CCTV cameras are installed in every corner of SHEMFORD so that there are no blind spots and we can closely monitor the safety of the children. We serve our children with healthy, nutritious & hygienic meals. The furniture at our school does not ha ve any sharp edges and is completely safe for children. Also, all the electrical sockets in the school are out of the reach of our little ones . Knowing that their child is being supervised & taught by the caring & supportive staff in our safe and happy environment, parents feel relaxed and experience – Peace of Mind!
Colourful and Chirpy Environment
The best preschool in Gurugram is one where fun, learning and excitement never ends. Our entire curriculum is "Play Oriented". Through these play activities, children grow up making their own decisions and discoveries. Besides this, a climate of creativity is maintained throughout the year. The environment in the school is vibrant and colourful. Minutest details like choice of the colour palette and the graffiti on the walls have been given due attention to foster best learning outcomes in children.
Dynamic and Dedicated Team of Teachers
The quality of staff and faculty differentiates a good preschool from the best preschool in Gurugram. We have a highly motivated and professional team of facilitators who are passionate about teaching and teach our children with utmost patience and understanding. All teachers undergo regular training to ensure that they adopt the best Teaching-Learning practices. Teachers at our school are competent & well trained to let our children feel comfortable and safe with them. The other staff at the school is also trained to take care of the children affectionately. All in all, the entire school is always ready to cater to the needs of our children.
Daily Routine and Activities
"Enthusiastic" is how the pace should be at a good preschool in Gurgaon. At SHEMFORD, momentum is high and each day is full of excitement. Children follow a daily routine of activities designed to develop essential life-skills. There are an array of activities – like painting, reciting rhymes, singing, clay modelling, block building, fancy dress, etc. – to provide children with opportunities for creativity, physical coordination, emotional maturity, practical and social skills.
Best Playschools in Gurgaon are ones where Play is a Serious business. Play is the work of childhood and that's why we, at SHEMFORD, have designed special areas to make learning fun for children. Our Fantasy Land is where the dreams and fantasies of the young ones come alive. It's a place where our young ones immerse themselves in a whole new world where imagination and learning has no end. We also have a Celebration Area where children celebrate birthdays and other special occasions. Our interiors are scientifically designed in a way that is linked to the curriculum. Our classrooms are not only attractive but also enable hands-on-learning.
We, at SHEMFORD, provide the right environment and opportunities to stimulate the young curious minds. SHEMFORD  Futuristic School is one of the best playschools in Gurgaon with a colourful and chirpy environment and special learning areas that give children endless opportunities to grow and blossom.
Here the dreams and fantasies of the young ones come alive. It's a place where our young ones immerse themselves in a whole new world where imagination and learning has no end.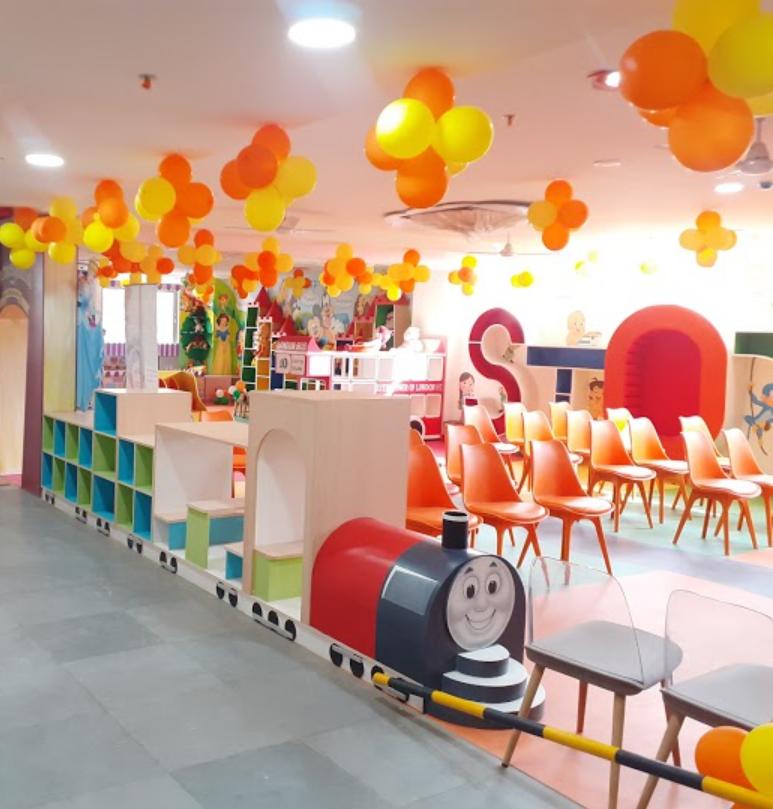 Here children celebrate birthdays and other special occasions.